Welcome to Academy of Exercise, Health and Therapy
Academy of Exercise Health and Therapy
All teachers are certified and academically experienced
The new international projects carried out in cooperation with Italy in particular with Accademia Terapie Manuali, certified by the Lombardy Region.
Check in new projects published below.
Training and promoting education in India through international partnerships is our primary mission.
We are promoting new forms of teaching to improve learning and enable more people to use our services.
Academy of Exercise Health and Therapy is an organisation that works for upliftment of physiotherapy profession by arranging workshops by experienced teachers from India and abroad that will enhance the skills of physiotherapists across the world so that they can provide world class physiotherapy services to population.
This academy is headed by Dr. Chirag Verma who founded this organisation in year 2016.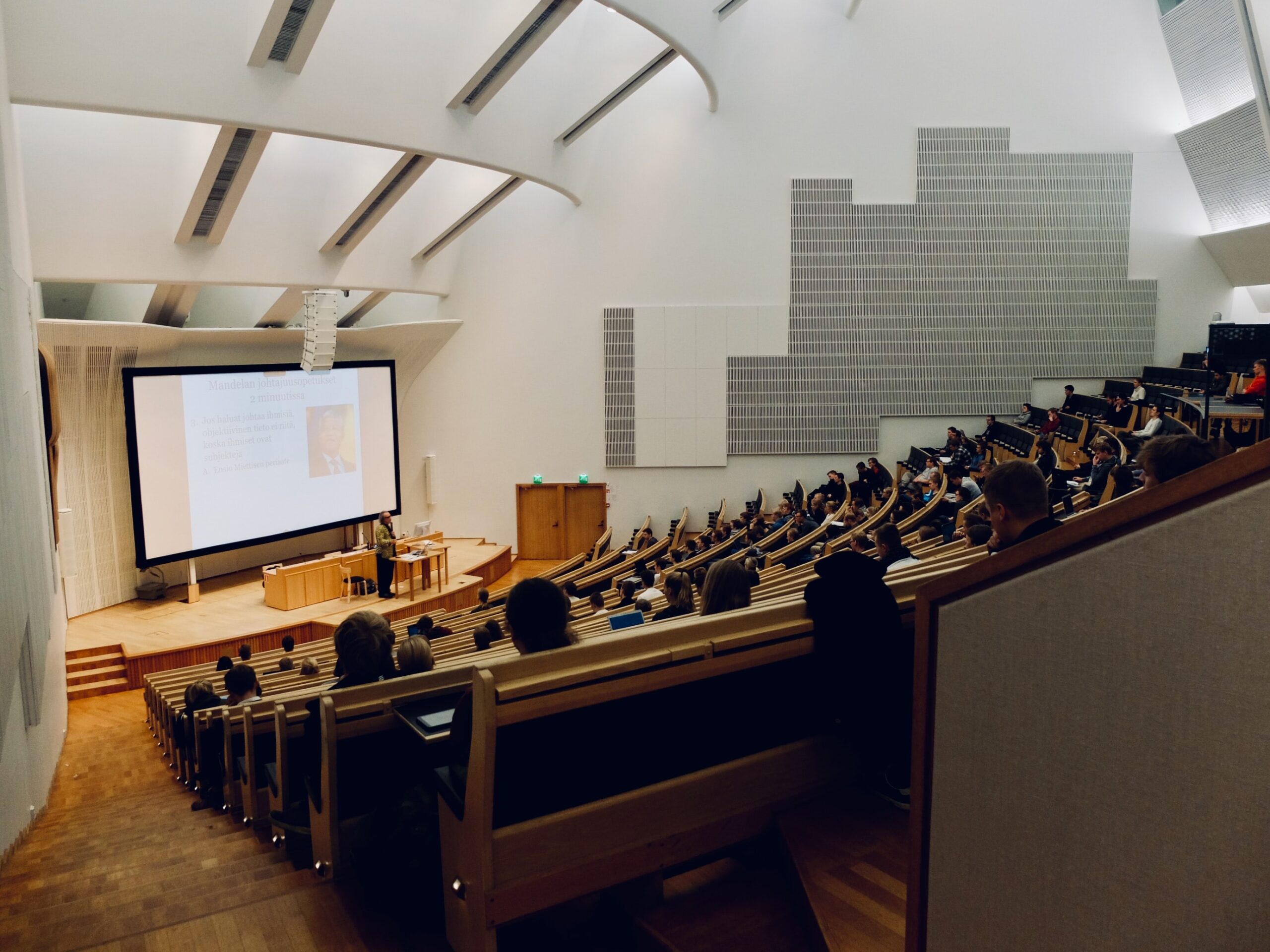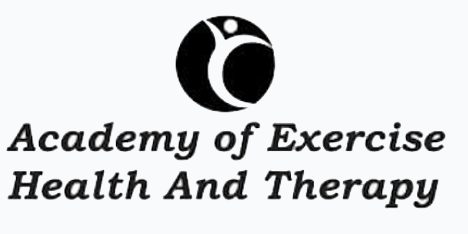 Monday – Friday: 8am – 8pm
BE-374 Hari Nagar Street No. Zero, behind Mother Dairy, Delhi, 110064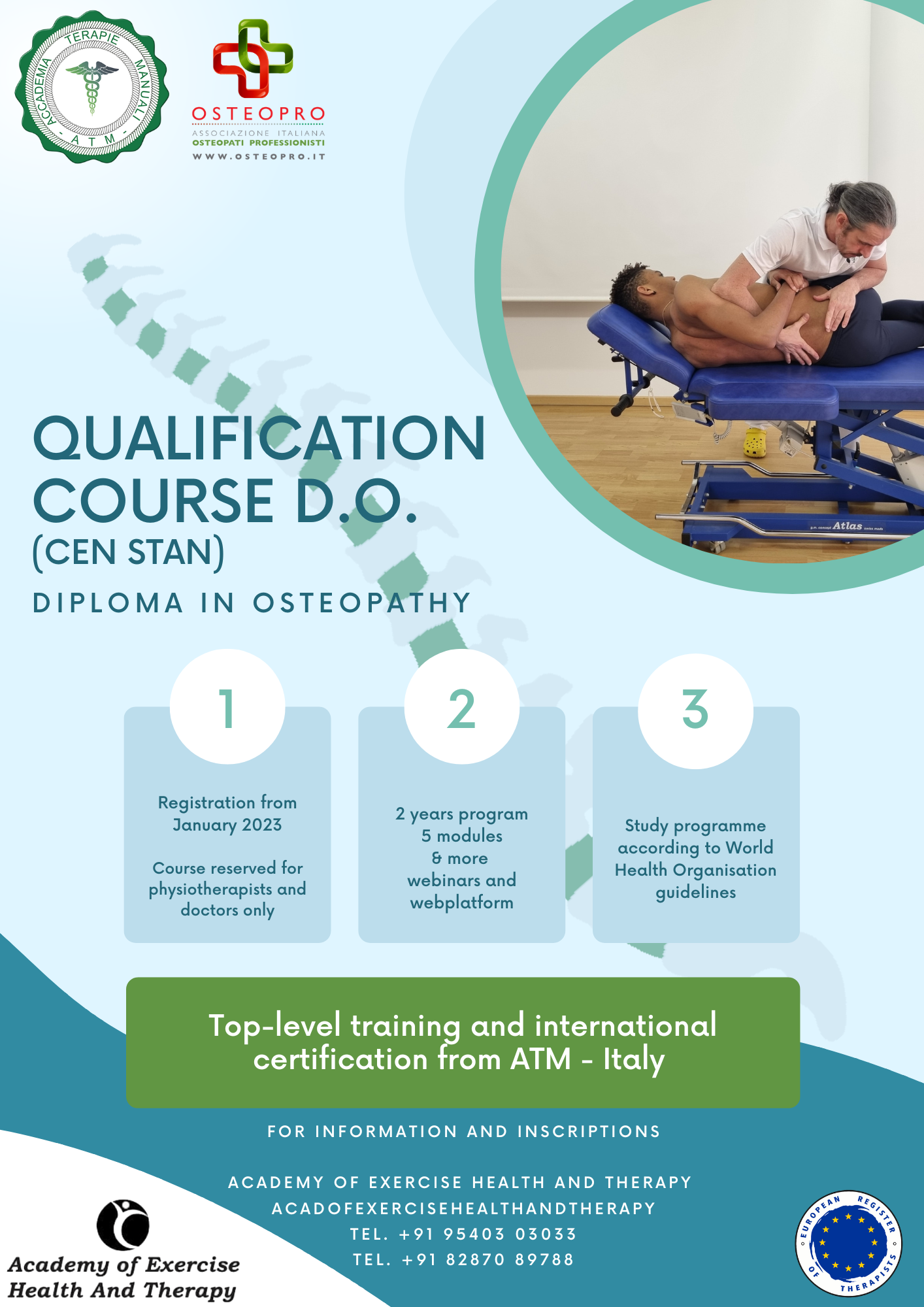 Qualification Course D.O. (CEN STAN) 2023 – 2024
The course lasts 2 years (4 semesters) and is divided into face-to-face and practical training hours, online classes and clinics.
There is no entrance test, but a maximum of 30 students are admitted.
.
Classes begin in January 2023 and end in December 2024, followed by the dissertation discussion.
.
Lectures take place in face-to-face modules supplemented by webinars and meetings, video lectures on the dedicated portal, laboratory and research days.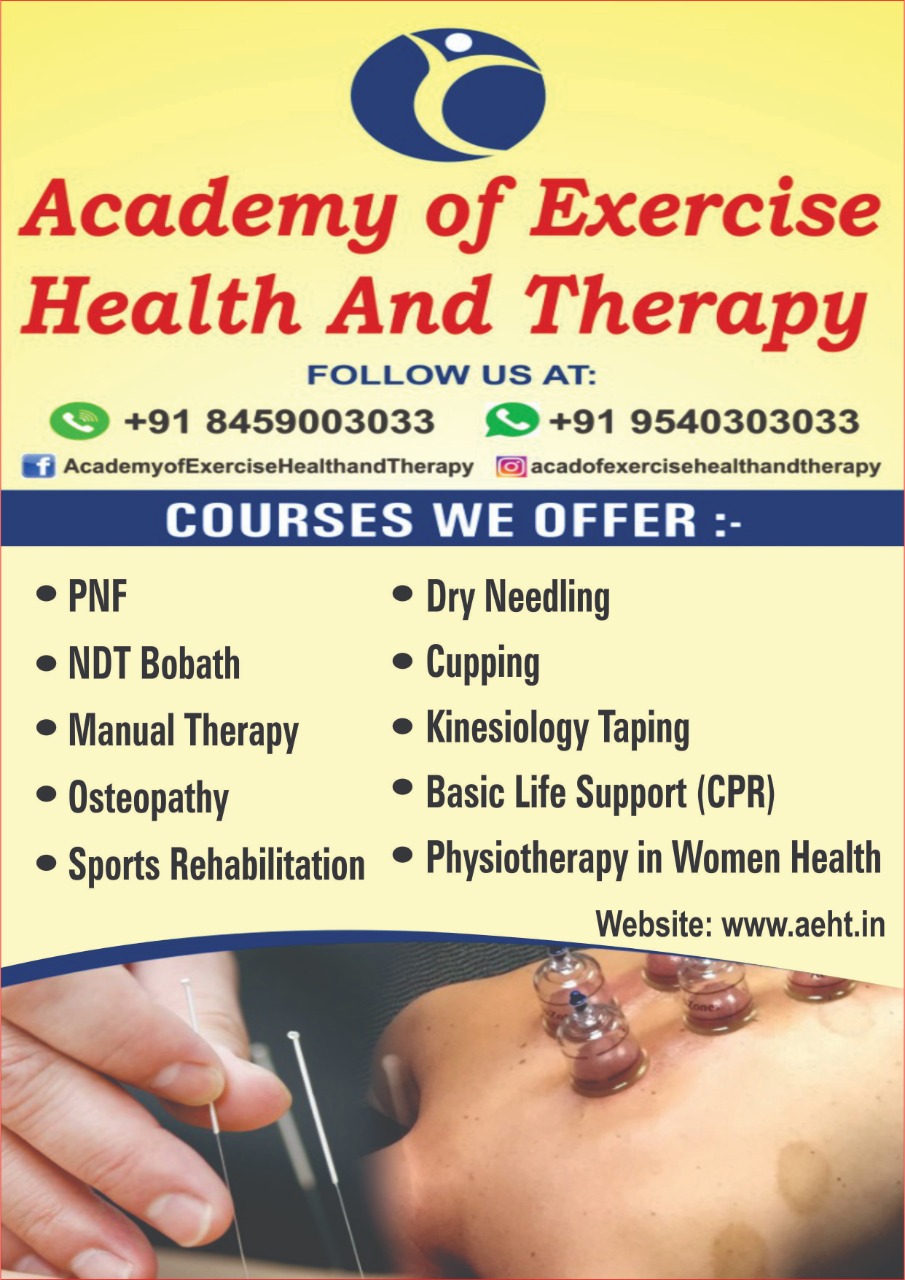 Courses we offer
Organised by
Academy
in collaboration with Osteopro and European Register of Therapists for further information please contact us directly.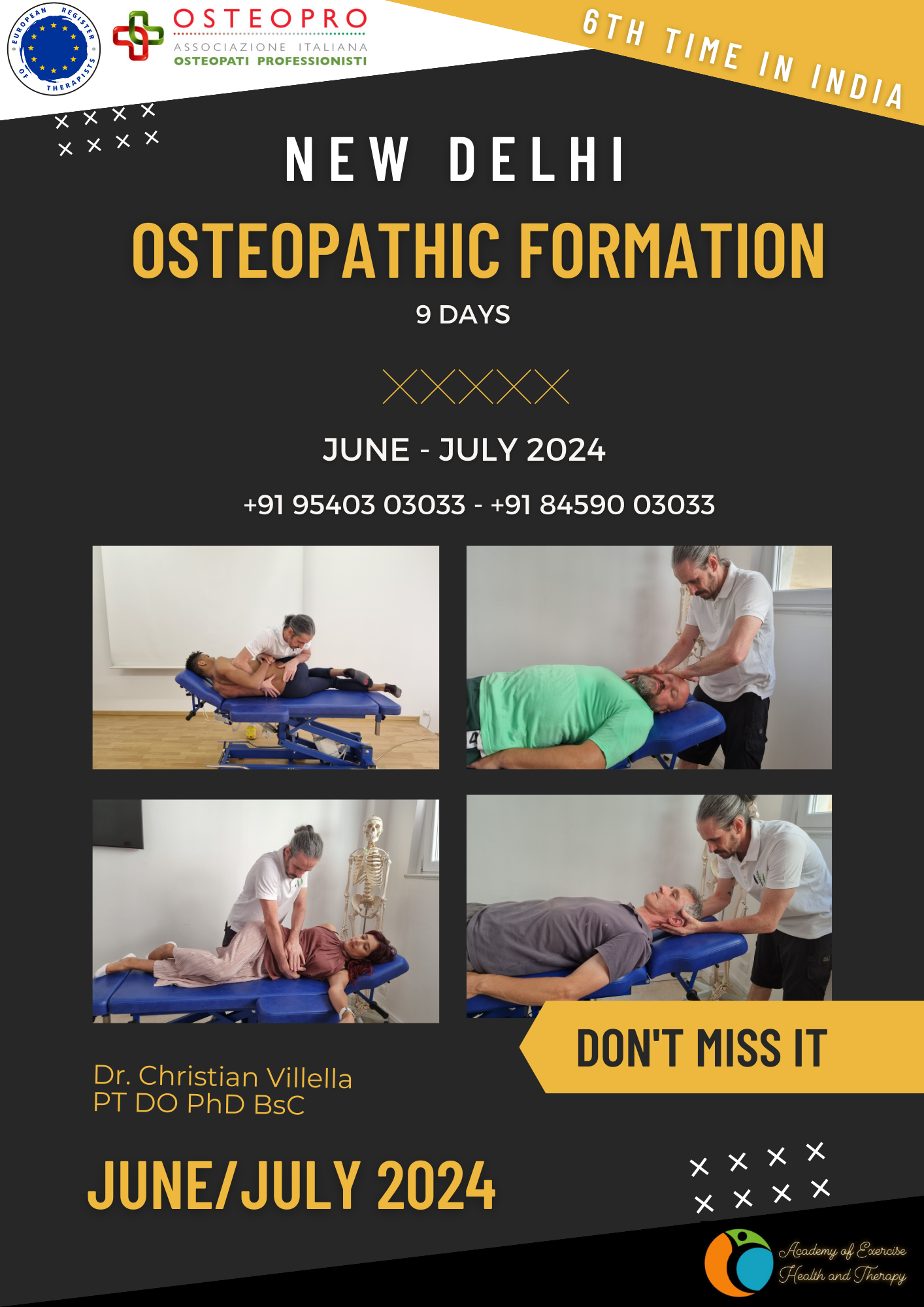 Osteopathic Formation
Organised by 
Academy
  in collaboration with Osteopro and European Register of Therapists 9 days of full osteopathic treatments.
2. Visceral and Cranial Osteopathy
3. Osteopathic Fascial Treatment
Don't miss this change in JUNE 2024 IN DELHI.
Academy is always on the lookout for innovations in training, in the areas of health, physiotherapy, manual therapy and wellness.
Here are some of our partners with whom we have signed agreements in recent times.
Our Web Platform
The web has changed our reality in living and learning, it is important to harness new technologies to improve our future.
Qualification Course D.O.
Osteopathy is an everyday reality in many countries, but often some realities tend to slow down its recognition, while the population demands its presence.
International Collaborations
Finding reliable partners on the outside is not easy, finding partners to share one's plans and dreams is still difficult. But we did it.
Training and awards
We would like to be the bearers of a new message, not by trying to create false expectations, but by creating the basis for a process of training and recognition of new professions.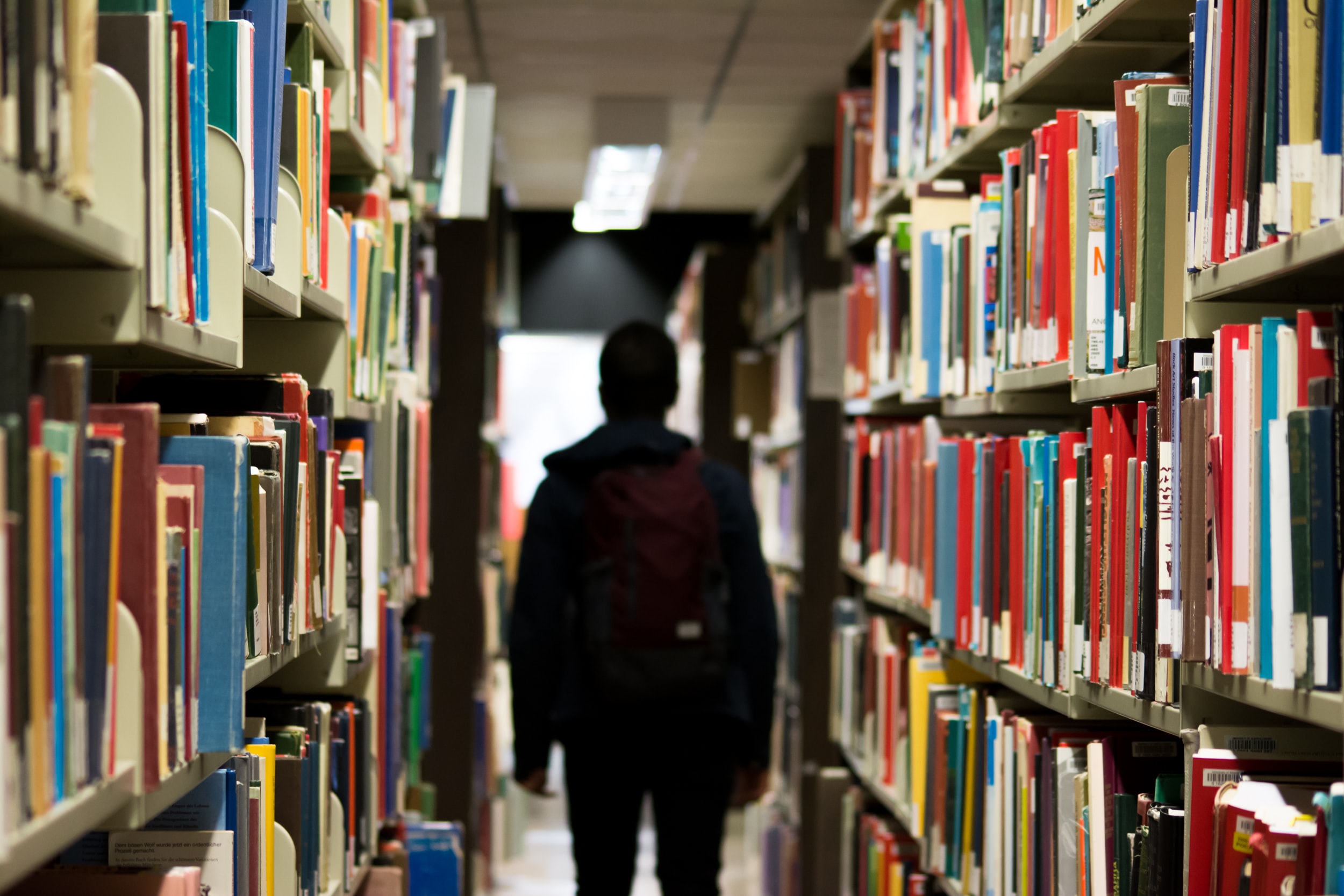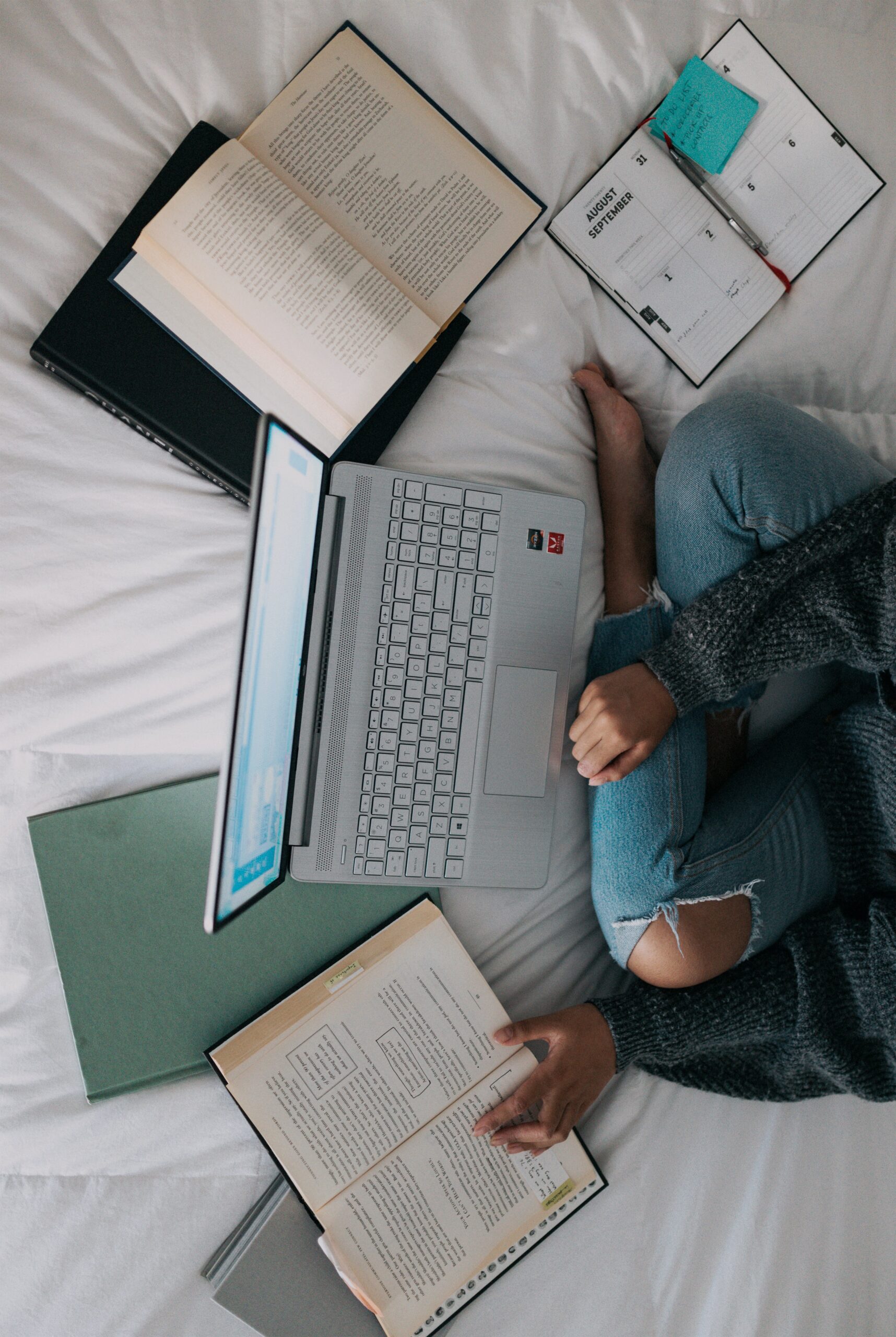 Our main focus right now is on the conference on 20th November. A unique conference with many participants and practitioners will be talking about different and innovative topics for the world of manual therapy. Last available seats.
Monday – Friday: 8am – 8pm
BE-374 Hari Nagar Street No. Zero, behind Mother Dairy, Delhi, 110064